April 12th, 2018
Well the first half of 2018 has been very good to me. In the way of customers/followers, I hit a milestone on Instagram (@damezphotos) with 1000 followers on 3/31/18, Facebook likes and comments are way up, and so are print sales. I have been blessed to obtain a lot of new material during recent travels to Czech Republic, Hungary, Croatia, Slovenia, Britain, and Italy. My portfolio of ready to go images is now over 1000. So stay tuned and watch for new and exciting material from these places.

And always: Thanks for your support!
David
January 5th, 2018
My first public display of my photography is now showing in the Castroville, TX public library. I produced twenty-four images (16x20") for this show. Most are printed on paper, but a couple are printed on canvas and metal so that you can see what photographs look like in different mediums. All images are mounted on foam board and ready for hanging. Each one is titled and signed. The show runs the entire month of January, 2018. The link in this blog is to my FaceBook page where an album containing all the images is located. The picture associated with the blog is of the Steinbach Haus Visitors Center in Castroville and was taken during the poppy season (Spring). If you're in the area, please stop by. Thanks for listening..... David
January 5th, 2018
This is the 2nd year for Meznarich Photography to publish a calendar for sale. My wife and I tried to pick favorite photos that represent a wide variety of images as well as the "mood" of the month. Another constraint in the selection was the photograph had to be landscape (or horizontally taken) format. The web link is to my FaceBook account and an album containing the original image and more information about the picture. I hope to have them all uploaded to this site (FAA) for immediate purchase individually. The calendar are spiral bound and opens to 8.5" by 22". Thank you for your interest. David
January 12th, 2016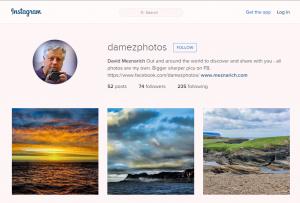 Last week I started publishing my work on Instagram. If you use that media, you can follow me for quick updates to the work that is available here for purchase. If you see something that I published on Instagram that is not shown here, drop me a note and I will upload the image. I have found that I enjoy Instagram, quickly zipping through pictures, learning, commenting and meeting folks from around the world. Everyone has some to share, and Instagram makes it easy to find photos, people and places. A picture is truly a universal language, understood by all.
January 12th, 2016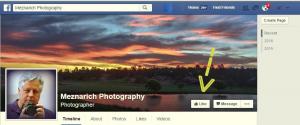 I've been a big Facebook user since October, 2008. Since that time, my use of that social media has changed, from keeping up with relatives and friends to focusing on what interests me - and that is photography. In the last 7 years, I've uploaded approximately 3,000 pictures to my personal page, generally of my travels and people that I'm close to. Most of the comments to my photographs have been complimentary and sometimes "... wow! you could sell this" or "your photos are of professional quality". For these comments, I am grateful and now motivated to produce better work that is open to the public (not just my friends). A couple of years ago, I also began adjusting my Facebook feed to present me great pictures from good photographers on Facebook by liking their pages. I studied what they were doing and how they were doing it. Finally in late December of 2015, I knew I needed to split my interests between family/friends and a photography, so I started the "Meznarich Photography" page on Facebook. So now I have two lives, a smaller personal page and a growing public page. Thanks for stopping by!
January 12th, 2016
I started taking photographs in 1972 with my Minolta 35mm and I was hooked. I ushered in the digital photographs beginning in 1999. Today, I have decided to take my work to the public. I have a vast amount of photographs from my travels during the last 15 years that I hope that you will find enjoyable. I am just learning how to market my work, having only posting pictures to 500px, Facebook, Flickr and G+ (or private Picasa albums). As I continue to travel, and hone my skills, you can expect the unexpected images from around the world. I love the memories associated with each image produced and hope that it inspires you to travel and photograph.